Render complex surfaces conductive with our stable, carbon-based conductive solutions! Single-wall carbon nanotubes and graphene can be used in many applications, but they can truly make a difference where electrical conductivity, environmental stability and solution processing is required.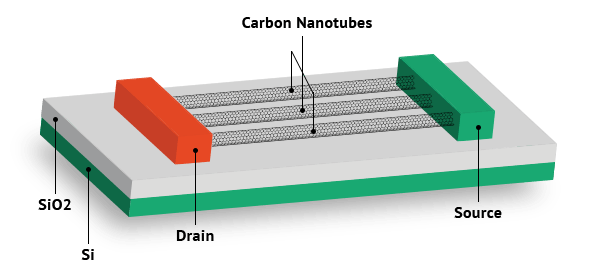 Electrostatic dissipation (ESD) is a rapidly growing market that is gradually adopting wet processing techniques such as spray coating. This technique allows to rapidly coat complex shapes. Our nanotube solutions allow transparent conductive coatings with extraordinary resistance to humidity and UV radiation.
Our highest-purity nanotube-based semiconducting ink leads to printed or etched transistors with remarkable mobility and ON/OFF ratio that are used for sensing applications. Our inks were used for over one hundred scientific publications in the last 2 years and are now being tested in late-phase industrial R&D programs. Our latest polymer-wrapping separation technology, licensed from the NRC, bypasses our previous bottleneck to mass scale-up.
Our semiconducting and conducting inks are also tested for logic, photovoltaics, anti-counterfeiting and biomarkers, among other applications.
Take a look at the impressive list (over 500 and counting) research articles that were carried out using our high quality products.
According the Google Scholar, over the last 8 years, 548 publications were published, receiving a total of 6686 citations. Impressive statistics include an average of 11.57 citations per paper, 835.75 citations per year and 42 papers with more than 42 citations (h-index of 42)! A sincere thank you to all our clients who trust our quality nanomaterials and turn them in stunning prototypes displaying world class performances.